Telephone Sets / Endpoints
When looking at the phone from the top or while using the phone it is hard to tell if it is a VoIP model or a Digital Model!
VoIP Phones (IPT, IP Series)(click for more info): Toshiba's flagship business telephone sets have been VoIP since 2003. The flagship is shared with the Digital models in the next section. Each VoIP phone can be powered with a POE switch, a power injector at a non-POE switch, or locally with a power cube. Also see SIP below (another type of VoIP). Click above for more info!
Digital Phones (DKT, DP Series) (click for more info): Toshiba's flagship business telephone sets have been digital since 1992. The flagship is now shared with the VoIP models in the previous section. Each digital phone has a non-shared powered connection with the Toshiba PBX. Click above for more info!
UCEdge Softphone on Cell App, PC/MAC, Tablet Toshiba keeps improving its UCEdge client. It runs on iPhone, Android, PC, MACs, and Tablets. Recently ACD functions have been added including Chat and presense.
Soft IPT: Toshiba's "Soft IPT" is a computer program for a traveling laptop, home computer, offsite desktop, or PDA that thinks it is a 10(20 with shift) button Toshiba phone. Requires both a Soft-IPT License and a VoIP endpoint License.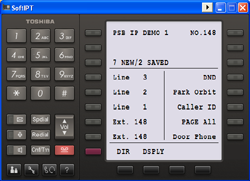 SIP Phones: SIP phones are another type of VoIP phone. They do not offer as many features as Toshiba's flagship MEGACO PLUS VoIP phones.
Toshiba SIP is now compatable with many of the Polycom SIP phone models: Polycom Deskphones (IP320, IP321, IP330, IP331, IP430, IP450, IP550, IP560, IP650, IP670). Polycom Conference Phones (IP4000, IP6000, IP7000). Polycom KIRK series. Polycom SPECTRALINK series.
Analog Phones: Toshiba does not offer a Toshiba branded analog set. The cost would be near a 1 button Digital Phone and it would offer so much more. However, you may add almost any analog device from any manufacturer. Analog phone service is what you have in your home and all consumer phone devices are analog in nature. This, of course, includes analog cordless phones. Other analog devices that connect to Toshiba analog ports includes faxes, modems, credit card machines, conference room phones, paging interfaces, etc.
Door Phones: Toshiba's door phone has been around for years. It is a speakerphone with a single button. Pressing the button sounds a "ding– dong" on selected Toshiba phones in the office. A controller is required and allows up to 3 doors or 2 doors and an "open door relay" (caution: only 1 door may be rung at a time—consider getting a controller for each door). Toshiba phone users can speak to the speakerphone and "open" the door (must be equipped with an electric door latch).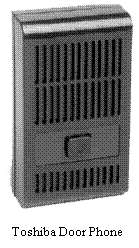 Conference Room Phones: Two features determine a good conference room phone. The first is full duplex speakerphone (like all Toshiba VoIP models). This means that both parties can shout and yell at the same time and all can hear each other clearly. This assumes both ends have full duplex capability. With half duplex, parties must be courteous and let each other talk in turn. The problem with full duplex is preventing electronic feedback (amplifying the same sound over and over again that produces the squeal whenever a microphone and speaker are too close together). VoIP & SIP inherently prevent this problem since the sound transmitted is delayed through the data network before it is re-played. The second important feature is accepting sound input from all directions and from far away distances.
Polycom's conference room phones were the first to perfect this technology in the mid 90's. They have been the market leaders since and have seen other large companies try and fail.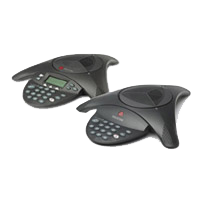 Analog Polycom: This unit originally cost $3,500 in the 90's. The improved models start at less than $500 now. These connect to an available Toshiba analog port (best since you can transfer to or from other Toshiba phones in your system before or after the conference). They may also be connected to a phone company analog telephone line. The choices start with : 1) basic non-display model, 2) display model, 3) display model that can someday handle extra microphones for a long conference room, 4) display models with extra microphones.
VoIP Polycom: These units usually cost 2-3 times as much as analog models. However, they often fit the need of the customer in select situations. Ask.
Cordless Phones: Toshiba gives you the ability to take full digital desk phone functionality with you, whether it's down the hall, into the conference room, or across campus. These cordless telephones allow you to access some of today's most advanced desk phone features, such as desk phone extension numbers, call forwarding, Caller ID and multi-line access. You can even switch between your cordless and digital desk telephones during a call. Toshiba provides spread-spectrum and narrow band and DECT technology options to safeguard your phone's frequency range and deliver maximum security.
DKT2504 DECT 6.0
IP4100 DECT 6.0 with up to 200 handsets sharing up to 40 base stations (8 calls active/base, 10 phones/base).
DKT2404 DECT 6.0 with up to 6 range extenders. (Discontinued 4/1/17)
DKT2204-CT 990 Mhz Spread Spectrum with 4 feature keys (Discontinued 1/28/10)
DKT2304-CT 900 Mhz Narrow Spectrum with 4 feature keys (Discountinued 11/30/12)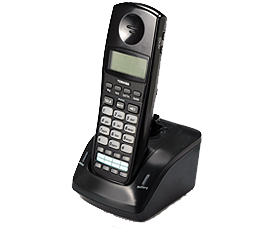 Attendant Console: With Toshiba, any and all telephones can serve as an attendant answering position. You can add extra panels to a phone (up to 500 buttons) to create a fast and efficient answering station with light status of each user and one-touch call or transfer. Having one or more Attendant Consoles can help with answering busy phones. Toshiba's solution is a computer program that handles your attendant functions with easy "drag N drop" answering. Visit the GUI button in left margin.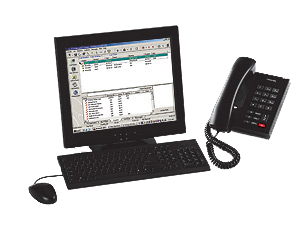 Electronic Phones (EKT Series):Toshiba used electronic telephone sets from 1982 to 1992. These models start with EKT (eg. EKT-6020-SD). They generally do not have a RED HOLD key. They have not been discontinued for years, however, Parker has kept some from the recycler to help out our customers with older Toshiba systems models."
---
Wireless IP Solutions.
Wireless Lan IP Solutions. The SpectraLink 8002 SIP wireless telephone is a cost-effective, business-grade mobile telephony solution for small to medium-sized businesses. Using the Wi-Fi Alliance's WMM QoS standard, the 8002 handset interoperates with most consumer-grade and SMB access point infrastructure devices, alleviating the need to install and maintain additional hardware while still providing enterprise-level security and voice quality. In keeping with the needs of the market segment, the 8002 handset is packaged in complete, ready-to-install bundles that include a single or dual charger, a battery pack and a power supply.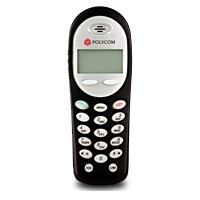 SpectraLink Enterprise Wireless Solutions. For mobility solutions requiring wider area coverage within the enterprise, Toshiba's relationship with Polycom® provides wireless telephone features that are fully integrated with Toshiba Strata systems. Polycom offers a complete portfolio of SpectraLink Wireless Telephones for the workplace and is dedicated to meeting the communication needs of mobile workers. SpectraLink Telephones operate within your facility's micro-cellular architecture or over your WLAN. You can leverage your existing investment by converging voice and data applications on the same WLAN.
uMobility Fixed Convergence (FMC) Enterprise Solutions. Toshiba's uMobility solution empowers mobile workers to cost-effectively make and answer their PBX calls from virtually anywhere. The user's smart cell phone functions as their PBX extension both while in the office via the wireless LAN and while out of the offi ce via a cellular network.