Toshiba Strata CIX Family of Telephone Systems:
Good Fit Indicators: Best fit are for sites with older cabling or those with existing digital Toshiba phones. Digital Phones are the most bulletproof type. You can expand new areas with VoIP models but service older areas with digital phones. You can have digital phones on site while offer VoIP models to remote sites and teleworkers. Tradional Analog POTs and PRI phone service can offer the most resilient phone service. Toshiba CIX core systems are bulletproof and offer some of the longest life available. With no operating system in the core the system can not be hacked to gain access to to the customer network. With VoIP "insulation" (hacking VoIP operation systems can't get to customer network).
CIX Family: Toshiba offers five Strata CIX systems which share the same software feature set but differ only in their maximum configuration size. Toshiba has a non-blocking architecture design that means every telephone can be used at once without power, CPU, or path limitations. Base cost is determined by maximum size permitted. The family members overlap in sizing and most use a license strategy where capacity is unlocked as you need it. This allows you to grow without having to pay for growth until you need it.
100% VoIP OR 100% Digital OR any percentage inbetween: Toshiba CIX is a modular system that can be expanded in either direction or both at any time. Giving migration to older Toshiba systems.
App Server gives most modern features Adding a Toshiba App Server (Stripped down IPedge without phones) gives the most modern of features to the traditional Toshiba CIX platform.
Factory updates are Free Toshiba offers free firmware updates. The dealer only charges for the labor to install them which is often an hour or less.
Strata DK Migration 1991-2000 Toshiba DK Systems can be converted into CIX by changing Cabinets and CPU card. Keeping most existing Digital Phones, CO Cards, Station Cards, Voice Mail, etc. Give new life and features to your old Toshiba system.
Class Migration The CIX 100, 670 can migrate to a larger system by changing CPU (keeping licensing) or changing/adding cabinets. Please contact us for other combinations.
Licensing: CIX licensing is tied to the CPU card. If the card fails or you expand to a larger CPU the licenses can be transfered. Toshiba CIX licensing does not expire.
Parker has CIX experience! Parker with over 25 years of being the local authorized Toshiba telecom dealer has been involved with the CIX platform from its birth. While some dealers resisted the more complex platform or sold different brands Parker embraced the new technology all along.
Network with other Toshiba SystemsToshiba CIX, IPedge, and VIPede COULD systems all network with each other. Tie over 500 systems together into 1 big system with 3000/6000 direct dialed extensions or 500,000* (*theorical) using site codes and extensions.
Toshiba has 5 CIX phone system models to fit your needs
Toshiba CIX Model
Number of Lines
Number of Phones
Brochure
CIX 40
4 to 11 analog
Up to 24 SIP
8-16 Digital
+ 0-24 VoIP
CIX 40
CIX 100
4 to 64
8 to 72
CIX 100
CIX 200
4 to 96
8 to 160
CIX 200
CIX 670
4 to 264
8 to 560
CIX 670
CIX 1200
4 to 440
8 to 1000
CIX 1200
Toshiba CIX Family Details 4/16
---
CIX40 Release 2 is Toshiba's Smallest PBX.
4 analog CO trunk connections with Caller-ID.
8 digital station connections
1 analog station connection
1 music on hold input
1 overhead paging output
Optional 4-8 port voice mail, 374 mailbox
Optional lines 4-7 plus digital stations 9-16 card
Optional 2nd analog station
Optional 1hr battery backup (up to 2).
Optional SIP/VoIP in 8, 16, or 24 channels OR lines 8-11.
Wall mount PBX cabinet.
Licensed for all analog trunks/DigitalStations/Analog Stations.
Sold with a minimum of 4 phones.
Discounts on 1st 8 phones.
Heavy discounts on 10 button phones locked to Cix40*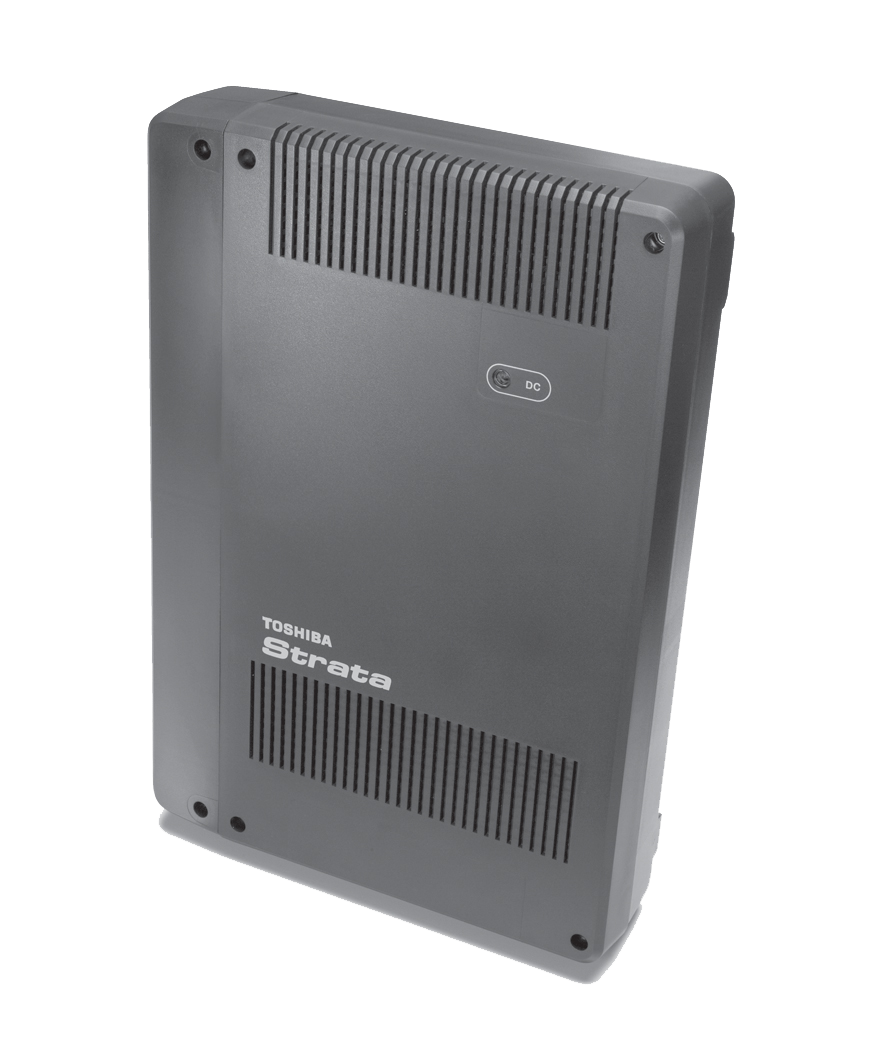 *10 button phones purchased at a discount with this heavy discount will not migrate to a larger Tohiba systems, but will be locked to the CIX40 saving you money on initial purchase. Phones can be "unlocked" at penalty pricing later (Discounted, non-locked 10 button phones are also available).
---
CIX100, 200, 670, 1200 share the same hardware.
Here are a few system dependent notes:
---
CIX 100 (max of 64 lines by 72 phones, 100 total):
Wall Mount PBX only
Optional Battery Backup Electronics
Starts with 16 or 32 basic licenses
Base (slots 1-4 & 9*)
Optional Expansion Cabinet (slots 5-8)
Slot 3 has extra time slices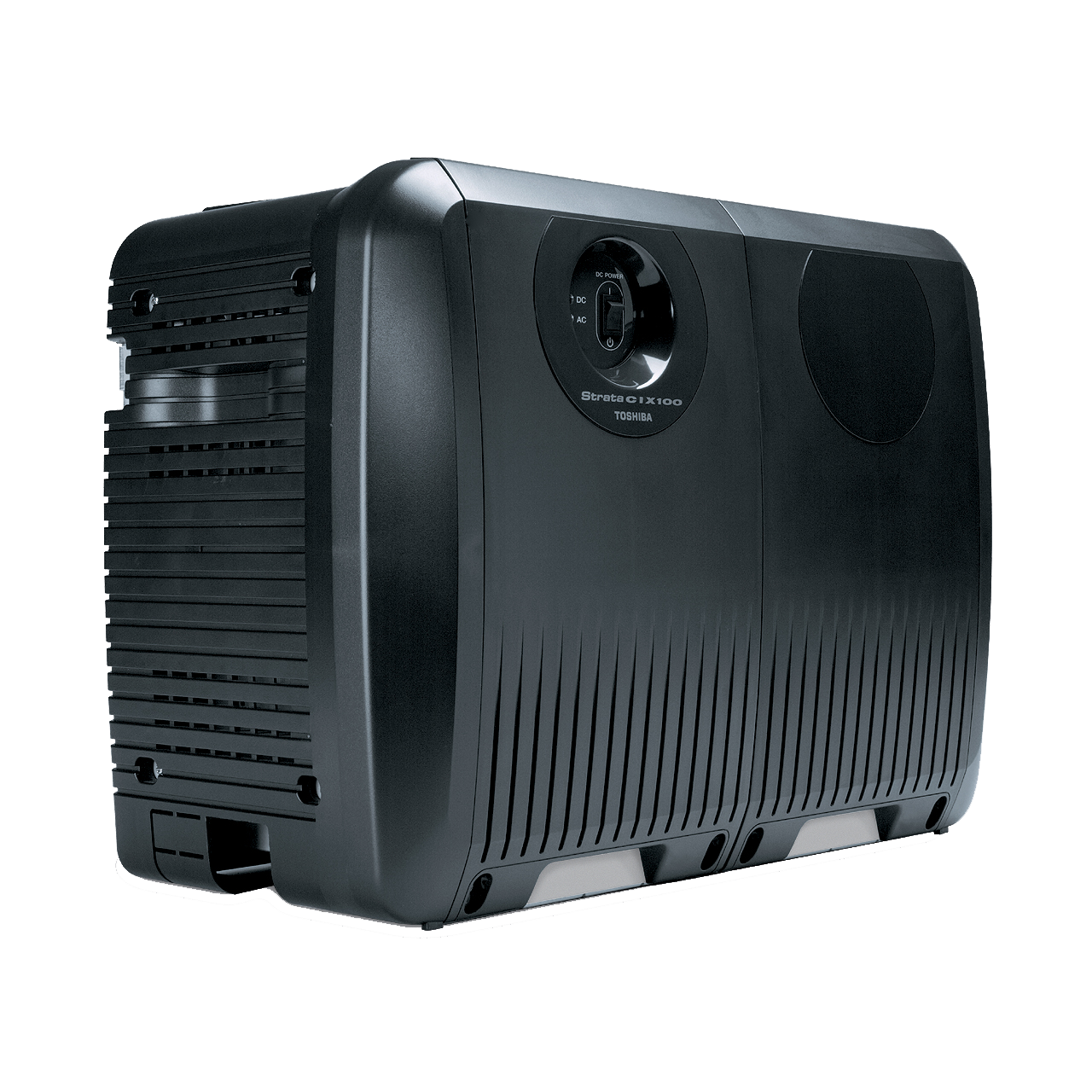 ---
CIX 200 (max of 96 lines by 160 phones, 200 max):
Rack Mount PBX only
Starts with 64 basic licenses
Base (slots 1-4)
Optional Expansion (slots 5-8)
All slots have extra time slots
Integrated Patch Panels

---
CIX 670 (max of 264 lines by 560 phones, 670 max):
CIX 1200 (max of 440 lines by 1000 phones, 1200 max):
Only difference is the CPU card
Choice of Wall or Rack Mount PBX
Base Cabinet has 2 CPU slots and 8 card slots
Expansion Cabinets have 10 card slots each
Built in Battery Backup Electronics
Starts with 64 OR 192 basic licenses