New Samsung Systems
Samsung Business Phone Platforms:
CLOUD VoIP-->
SCM Samsung Communications Manager in the CLOUD. Models SCMe
Premise VoIP -->
SCM (Samsung Communication Manager). Models: SCMe SCMc Office Serve 7100 Series. Models 7030, 7100, 7200s, 7200, 7300, 7400 -->
The SCM CLOUD simply uses a virtual implementation of a SCM Premise system. The systems are feature identical. This allows sharing of equipment and migration in either direction as well as networking. SCM is the new Samsung flagship for business phone systems. Since top model phones have wireless built in there is no need for digital phones for older voice cabling. Instead you simply add wireless access points for every 20-25 phones or as needed for coverage. Samsung's are powerful and thus reasonably complicated and almost alway vendor administrated.
Some Favorite SCM Features:
☺ Built in Music on Hold Capability ☺ Built in firewall for those who needed one ☺ Optional SBC lite for SIP Trunk Service quality ☺ Optional enable a small software voice mail ☺ Optional large voice mail card ☺ Optional call recording card ☺ Optional conference server card. ☺ Embedded medium ACD or external deluxe ACD ☺ Embedded mobility server - swtich calls between system & cell phone ☺ Optional Dual Power Supply ☺ Five year warranty on phones. One year else, with 3 & 5 year extensions.
Samsung SCMe in the CLOUD
Samsung is one of the few CLOUD providers that can offer a premise alternative with the same exact configuration. This allows the safety of changing your mind upon business conditions to or from premise to cloud.
Give your users powerful communications tools at a low monthly cost. The "all-inclusive" premium seat is fully features, including a fully featured ACD call center, smart phone apps, PC softphone, automatic call recording. Our "standard" seat does NOT include ACD, smart phone apps, or PC softpone GUI, but does include Find Me, Follow Me and much more, and our "basic" seat is perfect for guest, lobby, or convience locations.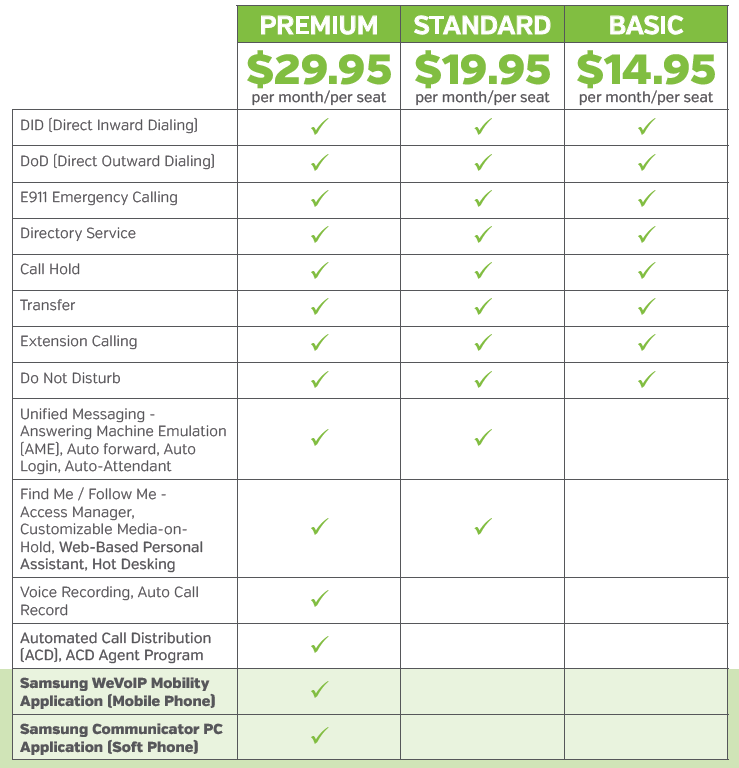 Samsung and Parker can give you much freedom in the Cloud contract. Having Parker as your champion can save you the surprises that other cloud companies do not tell you and bury deep inside the fine print. We can offer many flavors. Take phones for example you can buy up front, rent for the first term, get new phones at the second term or elimate phone rental costs in the second term. We can offer to manager your voip using your own interent, rent or sell a Samsung wireless network for your phones and or pcs. We can bundle in data equipment, page adapters, doorbells, fax to email, Advanced Enterprise ACD, Voicemail to text, e911 to each phones location, and so much more.And unlike most Cloud sales, Parker will be here after the sale to help maintain or adjust your system.
Samsung Premise SCMc
The SCM platform was introduced in 2016 and has become the Samsung flagship. The SCM offers up to 500 phones. For larger sites see the SCMe below. The Samsung SCM offers state of the art integrations with smart phones and wifi. The most popular model phones come prepared for both wired and wire-less wi-fi operation. Althought any wireless network could be used it is best used with Samsung's Enterprise Wireless Access Points and Controllers for corded quality calling. A built in firewall and a Session Border Controller (SBC) light appliance is built in and available as a licensed feature.
Release 2 of the software was just released (Aug 2017) with many more features than the curent r1 brochures and general descriptions show. The SCMc comes with 1 year hardware warrant Because of all the nifty apps, an anual fee is required to keep all your software up to date. This can be purchased in up to 5 years at a time for discounts.
Although the System is clasified a premise voip systems, the base router style cabinet has room for 4 i/o cards that can be used for large voice mails, call recroding of all calls, analog phone lines, PRI phone service, and analog phones. Expansion boxes in "router" shape allow for scale of these options. As almost all premise voip system the system is licensed to unlock growth to save small or growing companies from requiring large upfront costs.
SCM Hardware: * Base SCMc has 4 slots for cards * PRI card (1 or 2 PRIs per card) * 4 Analog line card * 4 Analog stations card * VPU - Server for large voice mail/Conferencing; 2nd for call recording - 500hours * 2 BRI phone service (rare is USA) * Optional 2nd power supply at time of purchase * Expansion Gateway - 4 more slots for cards. single/dual power supplies * Anlalog station gateway: 20/40 & single/dual power supplies
Free Built in ACD for SCMc and SCMe
The free version of the ACD is quite powerful and comes with both SCMc and SCMe system. The embedded version includes: + 32 ACD groups + 128 agents of 512 can be logged in at any time + Agents can be logged into multiple groups. + Built in Reports + Cascade messages for caller in hold in each acd group. + No additional server hardware require. $ Two extra cost options exist, GUI (recommended but not required) and WallBoards. Both under $100 per seat one-time* cost While the built in ACD is powerful enough for many, Samsung SCM offers an expanded more powerful ACD with all size, bells, and whistles for large call centers
Samsung Premise SCMe
The SCMe (e for Enterprise) is identical to the SCM but can grow to 4000 phones per site. Of course both SCMs can grow larger by networking multiple SCM's together.