ESI Options and Add-Ons
for Comm Server and IP900
Be sure to check the ESI Download page for product descriptions, brochures, and user guides
PSB IP900 Promo Bundle
PSB & ESI are offering a fantastic bundle of Add-Ons to the IP900 Systems at time of purchase. Qualifying 900 order with 12 ESI VoIP phones can add this bundle of favorite add-ons and a greatly reduce price making one totally awesome system. A ESI Hardrive is required to be added to the IP 900 system. A dedicated PC is requried to host the group of add-ons.
| | Base System | Awesome 900 Bundle | Combined License Count |
| --- | --- | --- | --- |
| UIP Licenses | 12 | 52 UIPs | 64 UIPs |
| VM Size | 2p x 15hr | 6p x 55hr | 8p x 70hr |
| Mobile Msg | enabled | --- | enabled |
| VIP 7 | 4 | --- | 4 |
| SIP Lic for Mobile App | --- | 12 | 12 |
| Recording Manager | --- | yes | yes |
| Call logging Channels | --- | 16 | 16 |
| Screen Capture | --- | 4 | 4 |
| Conference Bridges | --- | 2 | 2 |
| Click to Call | --- | 4 | 4 |
VIP 7 Application
GUI for your phone. VIP 7 gives your Windows PC control over your phone through a single windows PC application. Manage phone calls, sort and prioritze voice mail messages, send instant messages to co-workers, and capture your own call history. Program your phone, un-delete up to the last 10 deleted voice mails, keep track of your co-workers presence, and review your caller-id log. If you are part of an ACD you can add ACD features to the GUI. Options for attendant answering and ACD supervisors are also available. With the VIP 7 Softphone your computer or laptop can serve as a phone on the system from anywhere on the net.
VIP 7 GUI Flavors:
VIP 7
VIP 7 ACD Agent
VIP 7 ACD Supervisor
VIP 7 Attendant Console
Click to Call
Click to Call adds the ability to dial a phone number on a Window's PC by highlighting it (standard Windows left click and drag) and then clicking it. This may also be used initiate a screen pop in your favorite CRM software. It is sold by the seat. CS also requires a VIP-7 license.
Mobile Messaging (.wav of voice mail to your email/cell phone)
Mobile Message is a system wide license to enable Voice Mail to send notifications and/or .wav file of voice mail recordings to any email location including smart phones. Listen to the .wav file to hear your message instead of using the phone system to retreive the message.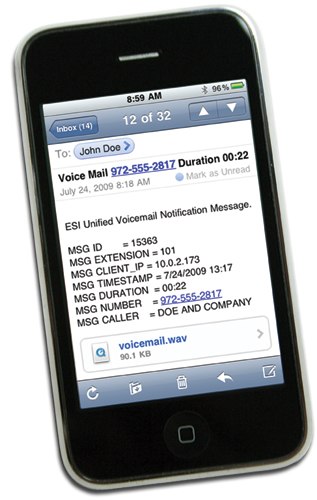 Presence Management: ESI Door Entry/Exit FOB Integration
ESI's premise phone systems offer integrated door/entry exit sensors and fobs.
Door Phone/ RFID Badge Reader and choice of fobs: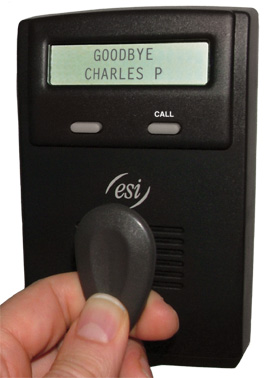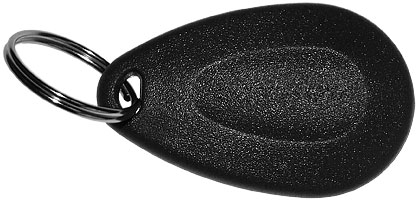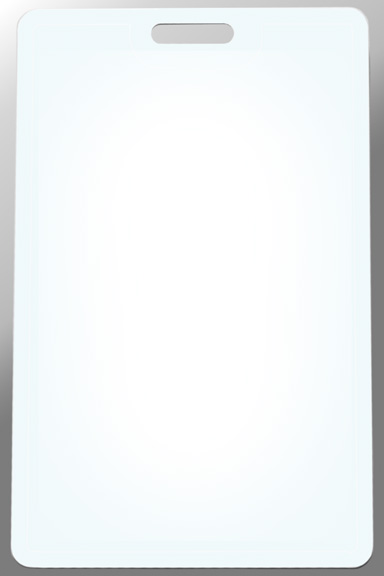 Check out these benefits:
+ Gone are the days of physical keys for each employee.
+ Elimiate cost of re-keying everytime someone looses a key. + Allow access on a room by room basis if you wish without expense of physical keys.
+ Know who is in the buiding and when.
+ Options of Time and Attendance via entry/exit.
+ Restrict access to internal rooms or areas for security
+ Know who was in the supply room or IT Server Room and when
+ You can tie a particular person's offsite/onsite to a button on your phone.
+ Personal Call Routing - For example, send calls to cell during working hours when offsite.
+ Unlock the door for guests using a button on selected phones.
+ Users phone will say "OFF PREMISE" when they are off site.
+ Built in doorbell/doorphone to call recpetion or a group of phones. + Phone users informed of the called person door location.
+ Let vendors in on the weekend from your home VOIP phone.
+ Open doors in remote facilities (add a camera for more security). + Door adjar sensor capability.
Offered in both digital and IP model although they have the same features. Both cards (photos) and fobs are available.
Time and Attendance
ESI Time and Attendance Manager is a PC application that integrates with the ESI Presence Management RFID (Radio Frequency Identification) door readers. This application allows an administrator to: monitor card fob activity; view entrance and exit events; track employee time and attendance; and assist in the preparation of employee payroll.
Features include: + Integrates with ESI phone systems and RFID door readers for fob reports. + Improves efficiency and reduces errors in employee time tracking. + Allows an administrator to easily review employee clock in/out events. + Calculates employee time automatically based upon in/out events and allowed break periods. + Allows an administrator to manually adjust hours worked. + Reports in/out events by RFID reader or by employee. + Enables up-to-the-minute viewing of each employee's current status. + Allows employees to clock in and out via a web page. + Assists in the preparation of payroll.
Call Accounting Lite, Pro, Pro-1-user, and Pro Unlimted Users
Call Accounting collects both inbound and outbound call data into a database. You may then run reports to sumarize or analyize the data. Call Accounting lets you find out who and when customers or clients are calling and how you are doing in answering them. Find abuse such as who keeps calling overseas? Find out how many outbound calls your sales department is makimg by user/extension. How long does it take your call center to answer? How long are people stuck on hold or waiting for ACD to answer? Like most call accounting software, each call segment (ended by a transfer / hold/ hangup) is recorded separartely. However, ESI call accounting also allows reporting based on the unique call as well. So much more...
Features: + Collects detailed call information on inbound and outbound calls from your IP Server 900 or ESI Communications Server. + Generates an array of summary, detail, and analysis level reports. + Automatically emails reports per user specifications. + Offers an unlimited variety of charts, with customizable parameters. + Provides Excel-style Pivot Table capability, to summarize and quickly target specific calls. + Creates a visual geographical analysis of call activity through the Maps function. + Tracks telecommunications costs with Flexible Call Costing. + Notifies of calls matching user-specified criteria with Call Alerting. + Advanced ACD reporting available for VIP 7 ACD Supervisor (VIP7 ACD Supervisor is sold separately).
Pro ACD enhancements: Pro Call Accounting adds many benefits to VIP 7 ACD Supervisor: + 4-department restriction lifted + Ability to view ACD hold time for individual calls + Ability to view information for multiple ACD departments in a single report + Can limit agent call detail to ACD calls only + View both ACD hold duration as well as non-ACD (manually-held call) hold duration + Additional information for ACD calls, such as whether a call was transferred to/from another extension, city/state information, call costing, and more + Report on number of unique calls, to get a true call count (i.e. count each call singly, regardless of the number of times it was put on hold or transferred) + Flexible email alerts, including ability to get an email whenever a call in queue is abandoned + Abandoned call report: see how long caller waited in queue before hanging up + Can report on all calls in system, including for extensions that are not part of an ACD group + Can schedule reports to be automatically generated and emailed + Create Charts and Pivot Tables that include ACD call information + View U.S. Map of where ACD calls are coming from
Lite Version: The Lite Version omits the following capabilities: - Viewing of Summary or Analysis Reports - DID/DNIS Reports - Generating/viewing Charts - Generating/viewing Pivot Tables - U.S. Map - Report scheduling via email - Email alerts - Connectivity with VIP 7 ACD Supervisor
Hardware Required: The system requires a Windows 10 Pro 64, 8/8.1 Pro 64, or Win 7 Pro 32/64. You may add an ASC card or hardrive to keep the data if the Call Accounting PC is rebooted, power cycles, or otherwise off. If you have an ACD with Supervisor we suggest this be the same PC as for the ACD supervisor.
Recording Manager
Recording Manager manages, archives with the only limit being hard disk space on the recording manager pc, and allows searching of one or more sites of ESI call logging. Each site requires call logging licensing in quantities of 4,8, and 32. Calls may be logged by extension (digital,IP, analog), departments, or CO lines (analog, T1, PRI, SIP Trunks). Calls are shown cradle to grave, not just call segments. Comm Servers require an ASC card (up to 10,000 hours) while IP900 systems require an external hard drive (up to 34,000 hours) for call logging. The Call Manager PC requires a single unlimited license. A recording may be exported as a .wav file along with an html index file to easily review call data.
Searching: + date + time range + whole or partial Caller ID Name and/or Number + dialed number + call duration + extension number + department number + line number.
Screen Capture
Screen Capture is an add-on to the Recording Manager. This allows the capture of a user's Windows PC active window as well as the audio during a call. It is sold by the seat in 4-packs. Terminal Services are NOT supported. Up to 8 frames per minute are saved.
Meet Me Conference Bridge for IP900
A Meet-Me conference bridge can be added to your IP 900 system on a per conference basis. A 4-pack bundle discount is close to the price of 3 individual conferences. Note that each conference can have 15 members. Each licese add another simultaneous bridge. Two conferences can be bridged to make a 30 person conference bridge. The conference members do not take away from the phone capacity of the system.
Find-Me / Follow-Me for IP900
The IP 900 offers Find-Me / Follow-Me to hunt down users for important calls.
Software Assurance aka annual fees to get updates and factory support access for your vendor
Most all add-ons come with one year Software Assurance. Add-Ons typicaly intergrate to your computer, operating system, and smart phone apps all of which are constantatly being upgrade making old software unusable until updated. We strongly suggest you add the 5yr extension at time of purchase at what most others charge for a year of updates. If you purchase the 5yr you may extend it another 3 after the 5 years. This does not include the labor to upgrade which is billed at normal labor rates. To update without software assurance without being in maintenance as with most software requires a fresh complete purchase.